Filipino Style Recipe: Banana Peanut Butter Ice Cream is a healthy dessert dish made of banana and peanut butter mix together until soft-serve consistency then chill before serve. This dish is a perfect dessert specially during summer season.
Estimated time of preparation: 10 minutes(plus freezing time)
Good for 2 servings
Ingredients: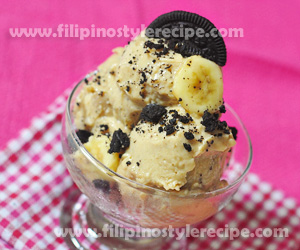 8 pieces ripe bananas, peeled and slice into discs
4 tablespoons peanut butter
1 teaspoon vanilla extract(optional)
Optional Toppings:
* grind almonds
* chocolate chips
* crushed chocolate cookies
Procedures:
1. In a food processor or high-speed blender, place bananas then process until creamy and smooth.
2. Add peanut butter and vanilla extract then process again until well blended and soft-serve consistency.
3. Transfer into freezer-safe container then place in freezer for at least 2 hours.
4. Serve chilled with toppings.
Comments
comments
Powered by Facebook Comments