Filipino Style Recipe: buttered oyster mushrooms is an easy and quick yet delicious dish. The procedures is very simple, normally oyster mushrooms sauteed and cooked in butter and flour then season with soy sauce, salt and pepper.
Estimated time of preparation: 3 minutes
Estimated time of cooking: 5 minutes
Good for 1-2 persons
Ingredients: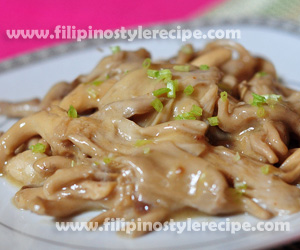 1 cup fresh oyster mushrooms, cleaned
2 teaspoons butter
3 gloves garlic, minced
1 tablespoon soy sauce or Worcestershire sauce
1 teaspoon flour(dissolved in 1/2 cup water)
2 teaspoons olive oil
salt and pepper to taste
spring onion, chopped
Procedures:
1. In a sauce pan, heat oil then saute garlic.
2. Add oyster mushrooms then cook for 3 minutes.
3. Pour dissolved flour and soy sauce then season with salt and pepper.
4. Add butter then simmer until melted and thickens.
5. Transfer to serving plate then sprinkle with spring onion and serve immediately.
Comments
comments
Powered by Facebook Comments