Filipino Style Recipe: ginataang hito with curry is another variety of mouth-watering curry dish. This is similar to other gata and curry dish. Normally the fish marinade then cooked in a blend of curry powder and coconut milk together with vegetables.
Estimated time of preparation: 15 minutes
Estimated time of cooking: 15-18 minutes
Good for 2 servings
Ingredients: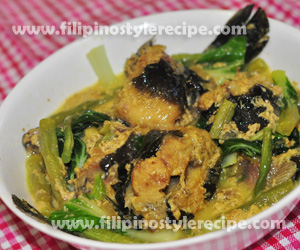 1/2 kilo catfish(hito), clean and cut into serving pieces
2 tablespoons curry powder
1 cup coconut milk
1 onion, chopped
3 cloves garlic, minced
1 thumb-sized ginger, minced
1/2 bundle string beans(sitaw), cut into 2 inch long(optional)
1 bundle bok choy(pechay)
2 pieces green chili(siling haba)
2 tablespoons olive oil
3 tablespoons calamansi or lime juice
salt and pepper to taste
Procedures:
Part 1
1. In a bowl, marinate fish with calamansi juice, pepper and salt for 30 minutes.
2. In a separate bowl, combine curry powder and coconut milk then mix until dissolved.
Part 2
1. In a pan, heat oil and saute ginger, garlic and onions.
2. Add the curry mixtures then stir and bring to boil. Add a little water if necessary.
3. Add fish, salt and pepper then simmer in a low heat for 5 minutes.(Do not stir but prevent fish from sticking.)
4. Add vegetables then simmer for another 3 minutes.
5. Remove from heat then transfer to serving plate. Serve hot with steamed rice.
Comments
comments
Powered by Facebook Comments