Filipino Style Recipe: Muffin is popular pastry bread specially in United States. This bread is similar to cupcakes and usually serve during breakfast together with coffee, tea or other meals.
Ingredients: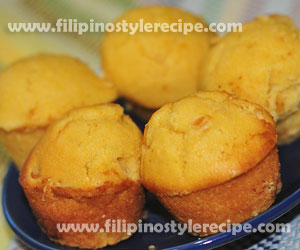 2 cups all purpose flour
1 teaspoon baking powder
1/4 teaspoon salt
1/2 cup unsalted butter, melted
3/4 cup granulated sugar
2 raw eggs
3/4 cup fresh milk
1 teaspoon vanilla
Procedures:
Part 1
1. In a mixing bowl, combine flour, baking powder and salt then mix well. Set aside.
Part 2
1. In an electric mixer, combine melted butter and sugar until well blended.
2. Add eggs, milk and vanilla then mix until to blended.
3. Gradually add the flour mixture then mix until well combined.
Part 3
1. In a muffin pan, grease with cooking spray or place paper cups.
2. Pour batter into each cups until 2/3 full.
3. Preheat oven to 400 degrees Fahrenheit then bake for 20 minutes or until golden brown.(Muffin is done when a toothpick inserted in the center comes out clean.)
4. Remove from the oven and let it cool before serving.
Comments
comments
Powered by Facebook Comments