Filipino Style Recipe: Pork giniling with liver spread or ground pork with liver spread is another easy and simple Pork dish. This dish is similar to adobong pork giniling but we will use liver spread for more flavorful taste. The procedure is simple and easy to follow, we will saute the giniling then cook in together with liver spread, soy sauce, sugar, salt and pepper to taste. We also include fried potatoes and bell pepper as our extenders.
Estimated time of preparation and cooking: 50 minutes. Good for 2-4 persons.
Ingredients: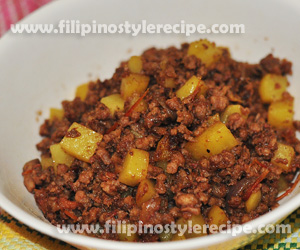 500 grams ground pork(giniling)
1 small can liver spread
2 pieces medium-sized potatoes, peeled and finely diced
3 gloves garlic, minced
1 onion, chopped
2 pieces medium-sized tomatoes, chopped
1/2 cup soy sauce
1/2 tablespoon grind pepper
salt and sugar to taste
5 tablespoons vegetable oil
1/4 teaspoon dried chili flakes(optional)
1 medium-sized red bell pepper, diced(optional)
3 pieces bay leaves(optional)
Procedures:
Procedures:
Part 1
1. In a pan, heat oil and fry the potatoes until slightly brown. Set aside.
Part 2
1. In a same pan, heat oil and saute garlic, onion and tomatoes then add ground pork and cook until light brown.
2. Add liver spread, soy sauce, bay leaf, chili flakes and pepper then cook for 3 minutes.
3. Adjust seasoning according to taste. Stir occasionally.
4. Add fried potatoes then cook until almost dry and start to render oil.
4. Remove from heat then transfer to serving bowl then serve with steamed rice.
Comments
comments
Powered by Facebook Comments