Filipino Style Recipe: Paksiw na hito is another quick and easy fish dish by Filipinos. This is another variety of paksiw which has a sour and salty taste. Usually the the fish and vegetables were cooked in vinegar, soda or water and some spices. I stewed catfish in soda to produce a sweet and sour taste to our dish.
Estimated time of preparation: 10 minutes
Estimated time of cooking: 10 minutes
Good for 2-3 persons
Ingredients: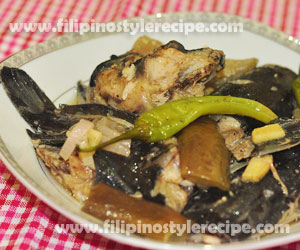 2 pieces large-sized catfish
6 gloves garlic, pounded
1 onion, chopped
1 thumb-sized ginger, sliced and pounded
1/2 cup vinegar
1 cup soda(sprite or lemonade) or water
2 eggplants or 5 okra, sliced into serving pieces
3 green chili(siling haba)
1 teaspoon olive oil
1/2 teaspoon ground pepper
fish sauce or salt to taste
salt and vinegar for washing
Procedures:
1. Rub catfish with salt then wash in vinegar.
2. Cut into 3-4 slices then rinse in running water. Set aside.
Part 1
1. In a large pot, arrange garlic, onions and ginger at the bottom.
2. Arrange sliced catfish then pour vinegar, soda, olive oil, fish sauce and ground pepper.
3. Add vegetables and green chili then cover and simmer in a medium heat for 8-10 minutes or until done.
4. Remove from heat then serve hot with rice. Enjoy
Comments
comments
Powered by Facebook Comments