Filipino Style Recipe: Sinabawang tilapia is a quick and easy fish dish by Filipinos. The fish sauteed in garlic, onion, ginger and tomatoes then simmered until cook together with sweet potato tops.
Estimated time of preparation and cooking: 20 minutes.
Good for 2-3 persons
Ingredients: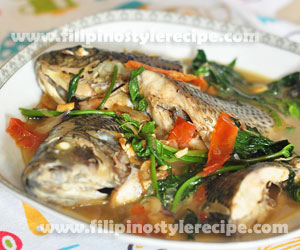 2 pieces medium-sized tilapia, scales removed and cut diagonally into half
3 gloves garlic, minced
1 onion, chopped
1 thumb-sized ginger, sliced
3 pieces tomatoes, chopped
3 cups water
1 bunch sweet potato tops(talbos ng kamote)
3 tablespoons cooking oil
Procedures:
1. In a pan, heat oil then saute ginger, garlic, onion and tomatoes until soft.
2. Add tilapia then cook for a few minutes until slightly brown.
3. Pour water and simmer for 3 minutes then season with salt and pepper.
4. Add sweet potato tops then simmer for another minute.
5. Transfer to serving bowl then serve hot with steamed rice.
Comments
comments
Powered by Facebook Comments