Filipino Style Recipe: pork and liver adobo in lechon sauce is another variety of Filipino adobo which is similar to lechon paksiw and pork adobo. Lechon sauce has a salty, sour and sweet flavor which gives a mouth-watering taste to our meat.
Estimated time of preparation: 10 minutes
Estimated time of cooking: 40 minutes
Good for 3-4 persons
Ingredients: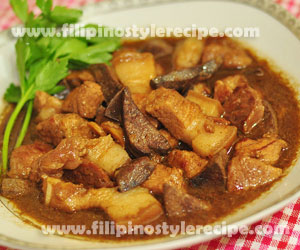 500 grams pork loin, cut into strips
200 grams pork liver, cut into strips
3 cloves garlic, minced
1 onion, chopped
1 thumb-size ginger, julienned
1 cup lechon sauce
1 cup water
2 tablespoons soy sauce
2 tablespoons vinegar
fish sauce, sugar and pepper to taste
parsley for garnishing(optional)
Procedures:
1. In a pan, heat oil then saute ginger, garlic and onion.
2. Add pork and fish sauce then stir cook until light brown.
3. Add liver and cook for another 3 minutes.
4. Pour water, soy sauce and lechon sauce then simmer for 15 minutes or until meat is tender.
5. Pour vinegar then simmer for another 3 minutes.
6. Adjust seasoning then simmer for another minute.
7. Transfer to serving plate then garnish with parsley. Serve.
Comments
comments
Powered by Facebook Comments