Filipino Style Recipe: Stir fried zucchini is a simple and healthy side dish. This dish is consists of zucchini stir fried in olive oil with garlic, chili powder, salt and pepper. This is usually serve with grated Parmesan cheese.
Estimated time of preparation and cooking: 10 minutes
Ingredients: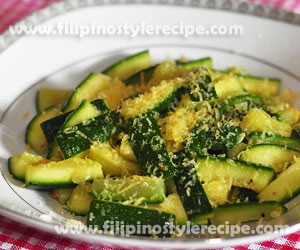 3 pieces zucchini, cut into 2 inch stick
2 tablespoons olive oil
1/4 teaspoon garlic powder
1/8 teaspoon chili powder
1 tablespoons grated Parmesan cheese
salt and pepper to taste
Procedures:
1. In a pan, heat olive oil then add garlic powder and chili powder. Stir.
2. Add zucchini then stir fry for 2 minutes or until golden brown and crisp.
3. Season with salt and pepper then toss.
4. Transfer to serving plate then sprinkle with grated cheese.
Comments
comments
Powered by Facebook Comments