Filipino Style Recipe: Bibingka is another Filipino delicacy that is traditionally served during Christmas season. This dish is commonly sold along the streets during Simbang gabi. Bibingka is consists of rice flour, coconut milk and baking powder then place in a round pan lined with banana leaf and topped with salted eggs and cheese. Traditionally this is cooked over and top of preheated charcoals or preheated oven. Brush with butter and sugar then served with freshly grated coconut.
Ingredients: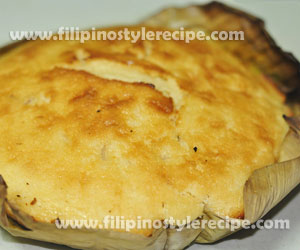 1 cup rice flour
2 teaspoons baking powder
1/4 teaspoon salt
3 eggs, beaten
1 cup coconut milk
1/4 cup evaporated milk
1 cup brown sugar
3 tablespoons butter, melted
banana leaves
Toppings:
1 salted eggs, sliced
30 grams cheddar cheese, sliced(optional)
butter or margarine
brown sugar(muscovado)
freshly grated coconut(optional)
Procedures:
Part 1
1. In a bowl, mix rice flour, baking powder and salt until well combined. Set aside.
Part 2
1. In a separate bowl, dissolved sugar in melted butter.
2. Add beaten eggs, coconut milk, and evaporated milk then whisk well.
3. Add flour mixture then whisk again until well blended.
Part 3
1. In a round baking pan, arrange banana leaf then pour mixture.
2. Bake in a preheated oven over 375 degrees Fahrenheit.
3. Remove after 15 minutes then top with slices of salted egg and cheese.
4. Bake for another 20 minutes or until top turns to medium brown.
5. Remove from the oven then brush top with butter and sprinkle with sugar.
6. Cut into serving slices then serve with grated coconut. Enjoy!
Comments
comments
Powered by Facebook Comments