Filipino Style Recipe: sinanglay na tilapia is another simple and easy Filipino dish. This dish is similar to ginataang tilapia but we stuffed tilapia with ginger, onion, garlic and tomatoes then wrapped with pechay leaves. The wrapped tilapia cooked in coconut milk until the fish is tender. Sinanglay na tilapia is a popular dish specially in Bicol region.
Estimated time of prepar ation and cooking: 20-30 minutes
Good for 4 servings
Ingredients: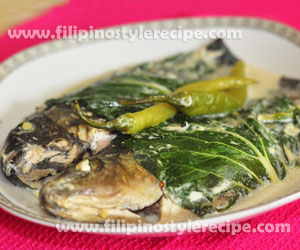 4 pieces medium-sized tilapia, cleaned and removed scales
2 bunches pechay leaves
4 cloves garlic, minced
2 onions, minced
1 thumb-sized ginger, grated
4 pieces medium-sized tomatoes, diced
3 pieces green chili(siling pang-sigang)
2 cups coconut milk
1/2 cup water
salt and pepper to taste
Procedures:
Part 1
1. In a bowl, combine garlic, onions, ginger, tomatoes, salt and pepper then mix well.
2. With a sharp knife, slice the back of tilapia then stuff with mixture.
3. Wrap around the stuff tilapia with pechay leaves then secure with thread.
Part 2
1. In a pan, arrange wrapped tilapia then pour coconut milk and water.
2. Cover and simmer for 15 minutes or until the fish is cooked then add green chili.
3. Adjust seasoning with salt and pepper according to taste then simmer for another minute.
4. Remove from heat then transfer into serving plate. Serve hot with steamed rice.
Comments
comments
Powered by Facebook Comments