Filipino Style Recipe: Tomato salsa is a popular Mexican dipping sauce and become popular in any restaurants. Salsa is a Spanish word for "sauce" and basically made of tomatoes, onion, cilantro and jalapeno. This dipping sauce has a mixed taste of sour, salty, sweet and spicy flavor. Mostly, this is commonly serve with chips together with cold beer.
Estimated time of preparation: 15 minutes
Ingredients: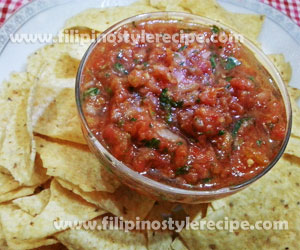 2 big-sized canned whole tomatoes
1 big-sized white onion, diced
1 green bell pepper, diced
1 cup cilantro, chopped
1 cup basil, chopped
2 pieces bird's eye chili or 1 jalapeno, deseeded and diced
1 small-sized lime or 4 calamansi, deseeded and juice
1 teaspoon sugar
1/2 teaspoon salt or 2 teaspoons fish sauce
Procedures:
1. In a blender or food processor, place all the ingredients then pulse it a few times or until the right consistency is achieve.
2. Adjust seasoning according to taste then transfer to serving bowl. Serve with chips.
Comments
comments
Powered by Facebook Comments