Filipino Style Recipe: buttered garlic chicken is another delicious chicken dish. Chicken is marinated in olive oil and garlic fried and baked in chicken stock and butter until tender.
Estimated time of preparation: 10 minutes(plus marinating time)
Estimated time of cooking: 10-15 minutes(plus baking time)
Good for 2-3 persons
Ingredients: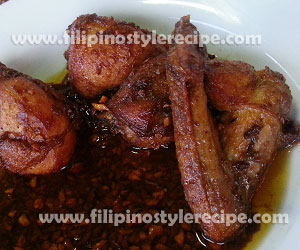 500 grams chicken, cut into serving pieces
1/2 cup olive oil
2 heads of garlic, chopped
1/4 cup unsalted butter
1/4 cup chicken stock
salt and pepper to taste
Procedures:
Part 1
1. Pat dry chicken then season with salt and pepper.
2. In a container, combine olive oil, garlic and chicken.
3. Marinate for an hour or overnight inside the fridge. Reserve olive oil.
Part 2
1. In a frying pan, heat olive oil from marinade then fry garlic until light brown. Remove and set aside.
2. In a same frying pan, fry marinated chicken until golden brown. Drain.
Part 3
1. In a baking pan, arrange fried chicken then add butter, chicken stock and a teaspoon of olive oil.
2. Cover with aluminum foil then bake in a preheat oven over 350 degrees Fahrenheit for 20 minutes.
3. Remove cover then baste chicken and bake again for another 10 minutes.
4. Transfer to serving plate together with toasted garlic. Serve.
Comments
comments
Powered by Facebook Comments