Filipino Style Recipe: chicken curry noodle soup is a popular Asian noodle soup. This dish is consists of chicken pieces cooked in curry powder, chicken stock and coconut milk then serve with noodles. I also add potatoes and tokwa as extender. The soup has flavorful and spicy taste which is good to serve during rainy season and cold weather.
Estimated time of preparation: 15 minutes
Estimated time of cooking: 40-50 minutes
Good for 6-8 servings
Ingredients: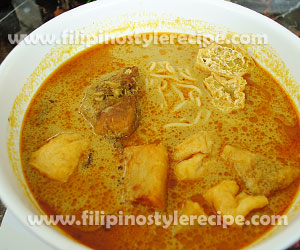 200 grams egg noodles
500 grams chicken, cut into serving pieces
1.2 liters chicken stock
400 ml coconut milk
3 potatoes, cut into cubes
350 grams tokwa, cut into cubes
2 onions, chopped
6 gloves garlic, minced
3 tablespoons vegetable oil
3 tablespoons curry powder(dissolved in 1 cup chicken stock)
2 tablespoons calamansi or lime juice
fish sauce and ground pepper to taste
1 teaspoon rosemary(optional)
1 chicken bouillon(optional)
Procedures:
Part 1
1. In a large pot, prepare noodles based on cooking instructions. Drain and set aside.
2. In a pan, heat oil then fry potatoes and tokwa. Drain and set aside.
Part 2
1. In a same pan, reduce oil then saute garlic, onion and rosemary.
2. Add chicken then stir cook until light brown. Season with fish sauce and ground pepper.
3. Add dissolved curry powder, chicken stock, coconut milk and chicken bouillon then simmer until chicken is tender.
4. Add fried potatoes, tofu and calamansi juice then adjust seasoning according to taste. Simmer for a couple minutes.
Part 3
1. In a large bowl, Add cooked noodles then pour chicken curry soup. Serve hot.
Comments
comments
Powered by Facebook Comments