Filipino Style Recipe: Classic potato salad is one of the popular salad that usually serve in any occasions. It is consists of boiled potato chunks tossed in mayonnaise, bacon tidbits, parsley, spring onion, lemon juice, salt and pepper for salad dressing. This is usually serve as side dish together with your favorite pasta.
Estimated time of preparation: 20-30 minutes. Good for 3-4 persons
Ingredients: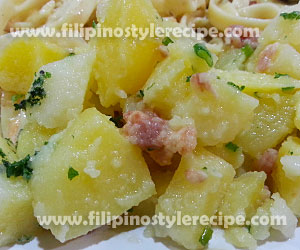 1 kilo potatoes, peeled and cut into chunks
1/2 cup ham or smokey bacon tidbits
1/4 cup parsley, chopped
1/2 cup spring onion, chopped
3 tablespoons lemon or calamansi juice
1/2 cup mayonnaise
1 teaspoon sugar
1/2 teaspoon salt
1/4 teaspoon ground black pepper
1/2 tablespoon mustard(optional)
3 hard-boiled eggs, peeled and chopped(optional)
1/2 cup celery, chopped(optional)
Procedures:
Part 1
1. In a large pot, boil water with salt then cook potatoes for 10-15 minutes or until tender.
2. Drain and Let it cool then place in a large bowl. Set aside.
Part 2
1. In a bowl, combine all the remaining ingredients and stir until well blended.
2. Pour over potatoes then toss gently to coat. Cover and refrigerate for 3 hours before serving.
Comments
comments
Powered by Facebook Comments