Filipino Style Recipe: sweet and sour fish fillet is another variety of popular sweet and sour dish that is commonly served in Chinese restaurants. The fish fillet comes fried in a crispy batter. Together with other vegetables, the fish fillet mixed in sweet and sour sauce made of pineapple, vinegar, ketchup, sugar and cornstarch. This is usually serve as main dish together with steamed rice.
Estimated time of preparation: 20 minutes
Estimated time of cooking: 20-25 minutes
Good for 3-4 persons
Ingredients: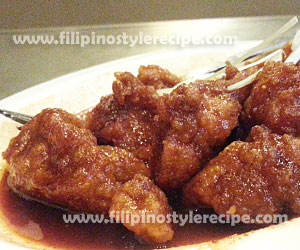 3/4 kilo fish fillet(I used dory), cut into serving pieces
oil for frying
Coating:
1 egg
1/4 teaspoon salt
1/2 cup cornstarch
Sauce:
1 green bell pepper, cut into cubes
1 big can pineapple chunks(reserve juice)
1 medium onion, cut into cubes
3 tablespoon vinegar
4 tablespoons brown sugar
4 tablespoons ketchup
2 tablespoons cornstarch(dissolve in 5 tablespoons water)
1/2 teaspoon sesame oil(optional)
Procedures:
Part 1
1. In a bowl, combine the cornstarch, egg, salt and fish fillet then stir to coat evenly.
2. Let sit for 15 minutes at room temperature.
Part 2
1. In a frying pan, heat cooking oil and deep fry fish pieces for 4 minutes or until golden brown.
2. Drain on paper towel and set aside.
Part 3
1. In a sauce pan, heat oil then saute bell pepper and onion. Remove from pan and set aside.
2. Add the pineapple chunks, pineapple juice, vinegar, ketchup, salt and brown sugar then bring to boil.
3. Adjust seasoning according to taste then add cornstarch mixture and simmer for another minute or until begin to thickens.
4. Add the fish pieces, bell pepper and onion then mix well. Remove from heat.
5. Remove from heat then transfer to serving plate. Serve hot with steamed rice.
Comments
comments
Powered by Facebook Comments