Filipino Style Recipe: Cheesecake brownies is another variety of chocolate brownies marbled with cheesecake. This kind of brownie has an extraordinary design comes with chocolate buttons inside. This can be serve together with coffee or milk and commonly serve as mid-afternoon snack.
Estimated time of preparation: 40 minutes
Estimated time of baking: 30 minutes
Good for 16 brownies
Ingredients: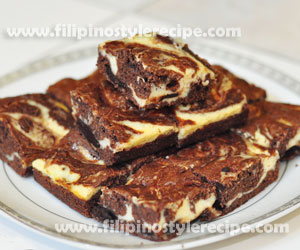 Cheesecake layer:
1 pack(225 grams) cream cheese, softened
1/4 cup sugar
1 egg
1/2 cup dark chocolate buttons
Chocolate layer:
1/2 cup dark chocolate buttons
1/4 cup butter
1/2 cup white sugar
1/4 tsp vanilla extract
2 eggs
2/3 cup all purpose flour
1/2 teaspoon baking powder
1/4 teaspoon salt
Procedures
Part 1
1. In a mixing bowl, combine cream cheese and sugar then beat until smooth.
2. Add egg and beat again until well blended then add chocolate buttons. Set aside.
Part 2
1. In another bowl, melt chocolate and butter together by putting it under boiling water then stir until well blended.
2. Add in sugar, vanilla, and eggs into chocolate mixture while continuously mixing.
3. Sift in the flour, baking powder, and salt into chocolate mixture then mix until just blended.
Part 3
1. Grease a 9 inch square baking pan with melted butter then line with wax paper. Brush butter on the paper.
2. Pour half of the chocolate mixture over the baking pan then spread the cream cheese mixture over the first layer.
3. Pour the remaining chocolate mixture on top then swirl a knife on top to make marble pattern.
4. Bake in a preheated oven over 300 degrees Fahrenheit for 25-30 minutes or until top is crinkled.
5. Remove from the oven and let it cool, remove the wax paper then cut into squares. Refrigerate before serving.
Comments
comments
Powered by Facebook Comments