Filipino Style Recipe: Hawaiian Pizza Pandesal is inspire to typical pizza made of oven-baked flat, round bread topped with tomato sauce, cheese and various toppings. We have several left-over pandesal this morning, I want to use it before it expire. Since I am craving for pizza and I already have some ingredients, I decided to use pandesal as alternative to pizza crust. The outcome is very good and the kids love it.
Estimated time of preparation: 15 minutes
Estimated time of baking: 8-10 minutes
Good for 8 servings
Ingredients: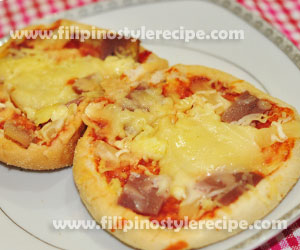 8 big-sized pandesal, cut in half
140 grams pizza sauce or tomato sauce
100 grams mozzarella cheese or quick melt, grated
Toppings:
100 grams pineapple tidbits, drained
100 grams sweet ham, cooked and cut into cubes
Procedures:
1. Place pandesal in a flat surface, ladle enough pizza sauce into the center and spread it out at the edges.
2. Sprinkle shredded cheese on top then arrange toppings evenly.
3. Spread shredded cheese on top of the toppings. Repeat for remaining pieces.
4. Pre-heat oven over 200 degrees Fahrenheit then bake pandesal for 8-10 minutes or until the cheese is melted.
5. Remove from the oven then transfer to serving sheet. Serve hot.
Comments
comments
Powered by Facebook Comments