Filipino Style Recipe: Pasta Marinara is an Italian dish that has become popular in the Philippines. The sauce is consists of tomato paste, tomatoes, and bell pepper. This is commonly prepared over or toss with pasta then sprinkle with grated cheese.
Estimated time of preparation: 5 minutes
Estimated time of cooking: 30 minutes
Good for 4-5 persons
Ingredients: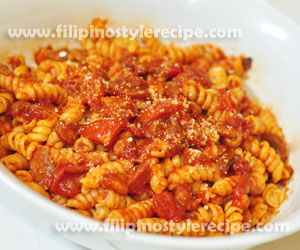 400 grams Fusilli pasta or any pasta
4 cloves garlic
1 medium onion, chopped
6 tomatoes, diced
1 small pack tomato paste
1 bell pepper, diced (optional)
1/4 cup water
salt and pepper to taste
Procedures:
Part 1
1. In a large pot, prepare the pasta based on cooking instructions. Set aside.
Part 2
1. In a saucepan, saute onion and garlic then add bell pepper. Continue sauteing for 2 minutes.
2. Add the tomatoes, tomato paste and water and keep stirring until the mixture is boiling.
3. Cover with lid and simmer for 20 minutes or until the tomatoes are soft. Stir occasionally to avoid sticking.
4. Adjust seasoning with salt and pepper.
5. Remove from heat and toss with the cooked pasta. Sprinkle with grated cheese then serve.
Note:
1. You may also add seafood like shrimps or squid if you prefer.
Comments
comments
Powered by Facebook Comments