Filipino Style Recipe: Cheesy Baked Pasta is another mouth-watering pasta dish made with beef, bell peppers, sausages and red sauce. The pasta and beef mixture tossed together then sprinkled with grated cheese. Baked in a preheated oven until the cheese is melted.
Estimated time of preparation: 15 minutes
Estimated time of cooking: 30 minutes
Good for 8 persons
Ingredients: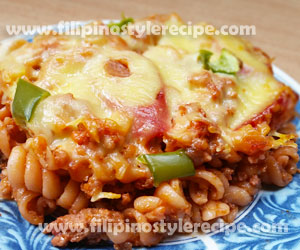 400 grams fusilli or spiral pasta
500 grams ground beef
7-8 pieces jumbo hotdogs, sliced diagonally
2 green bell peppers, diced
600 grams tomato sauce
1 large white onion, minced
4 cloves garlic, minced
175 grams mozzarella or quick melt cheese, grated
salt and pepper to taste
Procedures:
Part 1
1. In a large pot, prepare the pasta based on cooking instructions. Set aside.
Part 2
1. In a pan, heat oil then saute onion and garlic, add ground beef the stir cook until light brown.
2. Add the hotdogs and half of the bell pepper, season with salt and pepper then simmer for 2-3 minutes.
3. In a large bowl, combine pasta, beef mixture and tomato sauce then toss to combine.
Part 3.
1. In a 9 x 13 inch baking pan, spread the pasta and beef mixture evenly.
2. Arrange the remaining bell peppers then top with shredded cheese.
3. Bake in preheated oven over 300 degrees Fahrenheit for 15-20 minutes or until cheese is melted.
4. Remove from the oven then serve immediately together with garlic bread.
Comments
comments
Powered by Facebook Comments