Filipino Style Recipe: Mongolian shrimp rice toppings is another easy and simple dish inspired by Chinese cuisine. The shrimps coated in flour, egg, salt and pepper then fried until light brown. The sauce is consists of soy sauce, oyster sauce, wine, water, brown sugar and other seasonings. Toss in fried shrimps to coat then serve with steamed rice.
Estimated time of preparation: 5-8 minutes
Estimated time of cooking: 25-30 minutes
Good for 2-3 persons
Ingredients: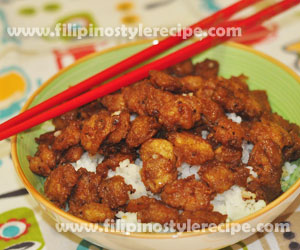 500 grams fresh shrimps, peeled and discard heads
1/4 cup flour
1 egg, beaten
1 teaspoon garlic powder
1 teaspoon ginger powder
a dash of dried chili flakes
1/4 cup soy sauce
2 tablespoons oyster sauce
2 tablespoons red wine
1/4 cup water
1/4 cup brown sugar
salt and pepper to taste
cooking oil for frying
Procedures:
Part 1
1. In a bowl, combine flour, egg, salt and pepper then mix until well blended.
2. Add shrimps then toss to coat.
Part 2
1. In a frying pan, heat oil then fry shrimps for 5 minutes or until light brown. Drain on paper towels.
2. In a same pan, reduce oil then stir cook the garlic, ginger and chili flakes.
3. Add the remaining ingredients then simmer until reduce in half and start to thickens.
Part 3
1. In a bowl, combine fried shrimps and the sauce then toss to coat. Serve with steamed rice then sprinkle with spring onions.
Comments
comments
Powered by Facebook Comments