Filipino Style Recipe: garlic squid or pusit is an easy and simple dish that doesn't require much ingredients. The squid cook in garlic and oyster sauce until tender. Avoid to overcook the squid because it will become rubbery texture and tough.
Estimated time of preparation: 10 minutes
Estimated time of cooking: 3-5 minutes
Good for 3-4 persons
Ingredients: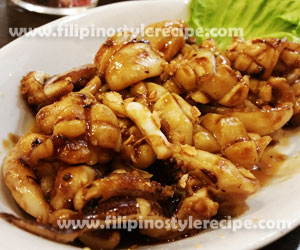 1 kilo medium-sized fresh squid
1 head garlic, minced and pound
1 teaspoon white ground pepper
1/4 cup light soy sauce
3 tablespoons oyster sauce
3 tablespoons canola oil
Procedures:
Part 1
1. To clean the squid, pull the head and remove the plastic-like cartilage.
2. Then push the head in, popping out the hard "beak" and discard it.
3. Wash the squid very well under running water.
4. Cut the squid into squares then score with diagonal criss-cross scoring.(This will make the squid more tender and less chewy)
Part 2.
1. In a bowl, combine squid, garlic, soy sauce, oyster sauce and ground pepper.
2. In a pan, heat oil then stir cook squid mixture for 2 minutes.(Don't overcooked, squid will become tough).
3. Transfer to serving bowl then garnish with lettuce. Enjoy!
Comments
comments
Powered by Facebook Comments