Filipino Style Recipe: Spicy fried rice is another easy and simple rice dish. It is mainly made up of fried rice stir fried together with ham, shrimps and other spicy seasonings. This can be serve during breakfast together with your favorite dish and soup.
Estimated time of preparation and cooking: 20-30 minutes
Good for 4-5 servings
Ingredients: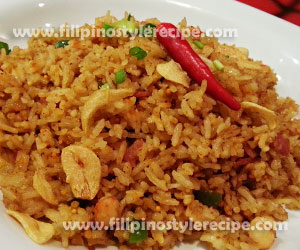 5 cups cooked rice, leftover
1 head garlic, slice thinly
1/4 teaspoon dried chili flakes or chili powder
1/4 teaspoon paprika
1/4 teaspoon turmeric powder
1 green bell pepper, diced
2 pieces ham, diced
12 pieces shrimp, peeled and deveined
salt and pepper to taste
1 tablespoon butter or cooking oil
chopped spring onions and red chili for garnishing
Procedures:
Part 1
1. In the pan, heat oil then stir fry ham and shrimp for 2 minutes. Remove from pan and set aside.
Part 2
1. In a same pan, stir fry garlic until golden brown. Remove from pan and set aside.
2. In a same pan, ad bell pepper then stir cook for a minute.
3. Add cooked rice then sprinkle with paprika, turmeric and chili flakes. Mix well.
4. Add fried garlic, ham and shrimp then season with salt and pepper. Cook for another minute.
5. Transfer to serving plate then sprinkle with spring onions. Garnish with red chili.
Comments
comments
Powered by Facebook Comments