Filipino Style Recipe: Crab fried rice is another easy and simple delicious fried rice dish. It is mainly made up of fried rice and crab meat mixed together until cooked. This dish is usually served during breakfast together with your favorite dish and soup.
Estimated time of preparation and cooking: 15-20 minutes
Good for 4-5 servings
Ingredients: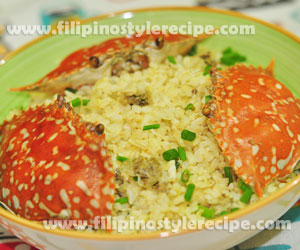 5 cups cooked rice, leftover
3 big-sized crabs, cleaned
6 cloves garlic, chopped
1 thumb-sized ginger, grated
2 tablespoons vegetable oil
1/4 cup water
salt to taste
2 tablespoons chopped spring onion(half for garnishing)
Procedures:
Part 1
1. In a pot, boil crabs in salted water over low heat for 10 minutes or until cook.
2. Drain and let it cool. Scoop out all crab meat from shells. Set aside
Part 2
1. In the pan, heat oil and saute ginger, garlic and spring onion.
2. Add crab meat then stir cook for a minute over low heat.
3. Add cooked rice then seasoned with salt and ground pepper according to taste.
4. Keep stirring for 5 minutes then transfer to serving plate and garnish with spring onion.
Comments
comments
Powered by Facebook Comments