Filipino Style Recipe: Spicy Chicken Paprika is a spicy chicken dish made from fried breaded chicken then tossed to coat in spicy paprika sauce.
Estimated time of preparation: 15 minutes(plus chilling time)
Estimated time of frying: 30-40 minutes.
Good for 3-5 persons
Ingredients: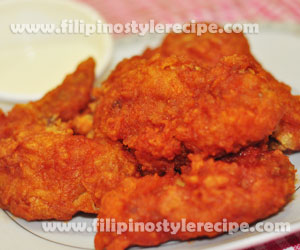 1 kilo chicken, cleaned and cut into serving pieces
cooking oil for frying
For Breading Mix:
1 cup flour
1 tablespoon paprika
1 tablespoon cayenne pepper
1 tablespoon salt
For Paprika Sauce:
1 teaspoon paprika pepper
1/2 cup hot sauce
1/4 cup brown sugar
2/3 cup butter or margarine
1 teaspoon ground pepper
2 teaspoon garlic powder
Dipping Sauce:
1 cup mayonnaise
6 cloves garlic, minced
Procedures:
Part 1
1. In a bowl, combine flour, paprika, cayenne and salt then mix well.
2. Place and toss chicken with the mixture until evenly coated.
3. Refrigerate for 2 hours or overnight.
Part 2
1. In a deep frying pan, heat enough oil to cover the chicken entirely.
2. Fry chicken for about 10-15 minutes in medium heat or until color turns to golden brown.
3. Drain and set aside.
Part 3
1. In a sauce pan, melt butter in a low heat then add butter, hot sauce, garlic powder, sugar and pepper. Stir well then turn off the heat.
2. In a large bowl, place the chicken then add sauce and mix until all the chicken coated evenly.
3. Serve immediately with dipping sauce and steamed rice.
Comments
comments
Powered by Facebook Comments