Filipino Style Recipe: Broccoli and Shiitake Mushroonm in Oyster Sauce is another healthy vegetable dish yet easy and simple to prepare. The broccoli and mushroom sauteed and stir cooked in a blend of oyster sauce and chicken stock.
Estimated time of preparation and cooking: 20 minutes.
Good for 2-3 persons
Ingredients: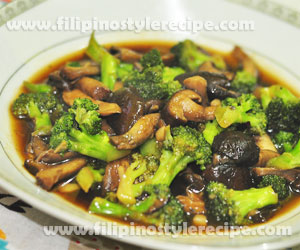 1 medium-sized Broccoli, cut into serving pieces
115 grams Shiitake Mushroom, sliced
3 cloves garlic, minced
3 tablespoons oyster sauce
1/4 cup chicken stock or chicken bouillon dissolved in hot water
a dash of dried chili flakes
2 tablespoons vegetable oil
salt and pepper to taste
Procedures:
1. In a pan, heat oil then saute garlic and shiitake mushrooms until light brown.
2. Add broccoli, chili flakes, and chicken stock then simmer for 2 minutes.
3. Add oyster sauce then adjust seasoning according to taste.
4. Simmer for another minute then transfer to serving plate. Serve immediately.
Comments
comments
Powered by Facebook Comments