Filipino Style Recipe: Shrimp and Sausage Pasta is another simple yet delicious pasta dish that is made of sauteed shrimp, sausage, tomatoes and herbs then toss together in pasta drizzle with olive oil.
Estimated time of preparation: 15 minutes
Estimated time of cooking: 15 minutes
Good for 4-5 persons
Ingredients: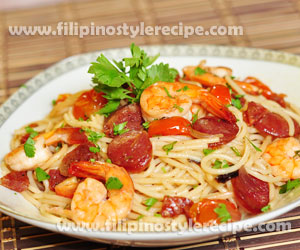 500 grams linguine or spaghetti pasta
250 grams shrimp, peeled and deveined
150 grams Chinese sausage, cut into thin slices diagonally
3 tomatoes, chopped
1 head garlic, minced
1 onion, minced
1/2 tablespoon ginger powder
1/4 cup coriander or parsley
a dash of chili flakes
4 tablespoons olive oil
fish sauce and pepper
Procedures:
Part 1
1. In a large pot, prepare pasta based on cooking instructions. Drain and set aside.
2. Reserve 1/8 cup pasta water. Set aside.
Part 2
1. In a pan, heat 2 tablespoons olive oil then stir cook sausage until browned.
2. Add shrimp and cook until color turns to pink. Remove from the pan and set aside.
Part 3.
1. In a same pan, saute garlic, onion and tomatoes until softened.
2. Add chili flakes, shrimp, sausage, ginger powder, coriander, fish sauce and pepper to taste.
3. Add pasta, pasta water and olive oil then toss to coat evenly.
4. Transfer to serving plate, top garnish with remaining coriander. Serve.
Comments
comments
Powered by Facebook Comments