Filipino Style Recipe: Spicy Wings in Tomato Sauce is another mouth-watering dish that consists of a chicken wings cooked in tomato sauce together with potatoes, carrots, herbs and seasonings.
Estimated time of preparation: 15 minutes
Estimated time of cooking: 40 minutes
Good for 3-4 persons
Ingredients: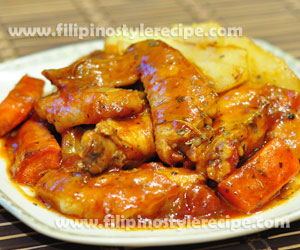 500 grams chicken wings, cut into serving pieces
1 large-sized carrot, cut into serving pieces
1 large-sized potatoes, cut into wedges
1 large-sized tomatoes, chopped
115 grams tomato sauce
1/2 cup chicken stock
a dash of dried rosemary
a dash of dried chili flakes
a dash of dried basil
1/4 teaspoon cumin powder
6 cloves garlic, minced
1 tablespoons butter
salt and pepper to taste
cooking oil for frying
Procedures:
Part 1
1. Season chicken wings with salt and pepper.
2. In a frying pan, heat oil then fry chicken wings until golden brown. Remove from pan and set aside.
3. In a same pan, fry potatoes and carrots until light brown. Drain and set aside.
Part 2
1. In a sauce pan, heat oil then melt butter. Saute garlic, rosemary, and tomatoes until soft.
2. Pour chicken stock, tomato sauce, cumin, chili flakes and basil then simmer for 5 minutes.
3. Adjust seasoning with salt and pepper according to taste.
4. Add chicken wings, carrots and potatoes then simmer for another 2 minutes.
5. Transfer to serving plate then serve with steamed rice.
Comments
comments
Powered by Facebook Comments