Filipino Style Recipe: Carrot Cake is a delicious pastry that has a moist, soft, and just the right sweetness. While frosting is sweet and creamy which makes the cakes look like from a gourmet bakery.
Ingredients: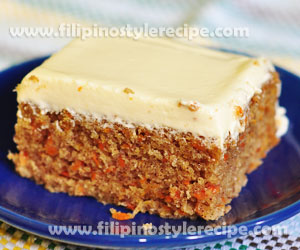 3 cups grated carrots
4 raw eggs
1 cup brown sugar
1 cup white sugar
1 1/4 cup vegetable oil
3 teaspoons vanilla extract
2 cups all purpose flour
2 teaspoons baking soda
2 teaspoons baking powder
3 teaspoons ground cinnamon
1/2 teaspoon salt
For the frosting:
1/2 cup butter, softened
1 pack (8 oz) cream cheese, softened
3 cups powdered sugar
1 teaspoon vanilla extract
Procedures:
Part 1
1. In a large mixing bowl, beat together the eggs, vegetable oil, white sugar, and vanilla.
2. In a separate bowl, combine the flour, baking soda, baking powder, cinnamon, and salt.
3. Combine flour mixture, egg mixture and grated carrots then mix until well blended.
Part 2
1. Pour the mixture into greased and floured 9×13 baking pan.
2. Cook into a preheated oven over 350 Fahrenheit for 40-50 minutes or until toothpick inserted on the middle comes out clean. Remove from oven and let it cool.
Part 3
1. For the frosting, combine the butter cream cheese, powdered sugar, and vanilla and beat until smooth and creamy.
2. Frost the mixture into cooled cake and refrigerate for at least 3 hours.
Tips:
1. For grating the carrots, use the bigger side of the grater (the one usually used for the cheese).
2. Do not try to open the oven until it is almost done (around 3/4 of the cooking time).
Comments
comments
Powered by Facebook Comments