Filipino Style Recipe: Cream Dory Pochero is another variety of tomato-based dish. The fish cooked in tomato sauce together with bananas and other vegetables. A simple yet delicious Filipino dish.
Estimated time of preparation: 10 minutes
Estimated time of cooking: 20 minutes
Good for 2-4 persons
Ingredients: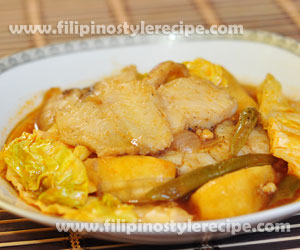 750 grams cream dory fillets, cleaned
3 pieces banana(saba), sliced halves
200 grams tomato sauce
4 garlic gloves, chopped
1 small onion, quartered
1/2 teaspoon peppercorns
1 cups water
100 grams green beans, trimmed and sliced
1 small chinese cabbage or bok choy(pechay), cut into serving pieces
2 tablespoons vegetable oil
fish sauce or salt to taste
Procedures:
Part 1
1. In a large plate, pat dry fish, cut into serving pieces, and set aside.
2. In a pan, heat oil then fry banana until golden brown. Drain and set aside.
Part 2
1. In a pot, heat oil and saute garlic and onion.
2. Add tomato sauce, water, and peppercorns. Cover and bring to boil.
3. Add fried bananas, and fish then cook for 3 minutes.
4. Add vegetables then simmer for another 3 minutes or until vegetables are cooked.
5. Adjust seasoning according to taste then transfer to serving plate, serve with steamed rice.
Comments
comments
Powered by Facebook Comments