Filipino Style Recipe: Iced Squash Cookies is one of my favorite cookie with Filipino twist. By incorporating a local product "Squash" as main ingredient, it will satisfy your kid's sweet tooth and give them additional nutrition. You don't have to store it a tightly sealed container since the cookie is tend to be soft and moist.
Good for 20-24 cookies
Ingredients: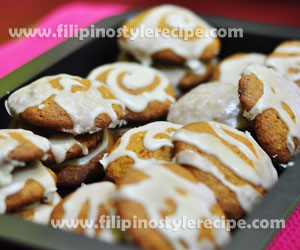 For the batter:
1 cup mashed squash (boil slices of squash for 15 minutes or until soft then mash with fork)
1 1/2 cup granulated sugar
1/2 cup butter, softened
1 raw egg
1 teaspoon vanilla extract
2 1/2 cup flour
1 teaspoon baking soda
1 teaspoon baking powder
1/2 teaspoon salt
2 teaspoon ground cinnamon
1/2 teaspoon ground nutmeg (optional)
For the Icing:
1 cup powdered sugar
2 tablespoon milk
1/2 tablespoon melted butter
1 teaspoon vanilla extract
Procedures:
Part 1
1. In a separate bowl, combine the flour, baking soda, baking powder, salt, cinnamon and nutmeg then mix until blended.
Part 2
1. In a mixing bowl, cream the sugar and butter until soft.
2. Add the squash, egg, vanilla then mix until creamy.
3. Add squash mixture then mix until well blended.
Part 3
1. Drop teaspoonful of batter into cookie sheets then slightly flatten.
2. Bake in preheated oven at 350 degrees Fahrenheit for 15 minutes. Let it cool.
Part 4
1. To prepare the glaze, combine powdered sugar, butter, and vanilla extract.
2. Add milk as needed to achieve desired consistency. Drizzle to cooled cookies.
Comments
comments
Powered by Facebook Comments