Filipino Style Recipe: Asian Style Steamed Cream Dory is another simple and quick fish dish that consists of cream dory cooked in Asian sauce made of light soy sauce, oyster sauce, water, sugar, ginger and sesame oil.
Estimated time of preparation: 10 minutes
Estimated time of cooking: 15 minutes
Good for 2-3 persons
Ingredients: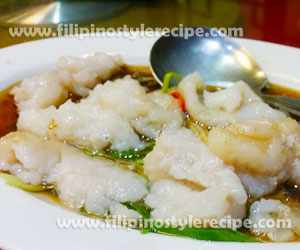 500 grams cream dory, sliced
1 thumb-sized ginger, sliced
salt and pepper to taste
2 stalks onion leeks, sliced diagonally
2 pieces chili pepper, sliced
Sauce:
3 tablespoons light soy sauce
1 tablespoon oyster sauce
2 cups water
2 tablespoons brown sugar
1 teaspoon grated ginger
1 tablespoon sesame oil
Procedures:
Part 1
1. Rub the fish with salt and pepper.
2. In a steamer, line with parchment paper so the fish won't stick to the bottom.
3. Arrange fish then top with ginger then steam for 10 minutes or until cooked.
Part 2
1. In a sauce pan, combine the sauce ingredients then bring to boil.
2. Add onion leeks and chili pepper. Turn off the heat.
Part 3
1. In a serving plate, arrange fish then pour the sauce on top then garnish with remaining onion leeks. Serve with steamed rice.
Comments
comments
Powered by Facebook Comments