Filipino Style Recipe: Basic Cupcake with Cheese and Bacon is a basic white cupcake that you can frost with your favorite frosting. However, in this recipe, i tried to make a twist by using grated cheese and bacon as topping.
Ingredients: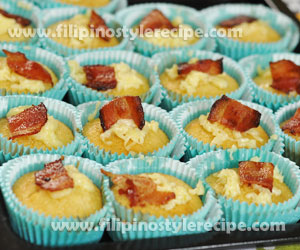 1 cup white sugar
1/4 cup butter
1 3/4 cup cake flour
1 1/2 teaspoon baking powder
1/2 teaspoon baking soda
1/2 teaspoon Salt
1/2 tablespoon Powdered buttermilk
2 eggs at room temperature
2 tablespoon Vanilla
1/4 cup vegetable Oil
1 cup milk
Procedures:
Part 1
1. Cream butter and sugar with a mixer at low speed for about 4 minutes.
2. In another bowl, combine flour, baking powder, baking soda, salt and buttermilk. Add to the butter and mix until well blended.
3. In a small mixing bowl, whisk together the eggs, vanilla, and oil and pour to the flour mixture. Mix at low speed until just combined.
4. Still at slow speed, add milk to the butter and mix until just combined. Do not over mix. The batter will be a bit liquid.
Part 2
1. Fill muffin pan with cupcake liners about 1/2 full and bake in preheated oven at 350 Fahrenheit for 15 minutes.
2. Remove from oven and top with grated cheese and bacon.You can also opt to frost with your favorite frosting like Cream Cheese Chocolate Chip Frosting.
Comments
comments
Powered by Facebook Comments