Filipino Style Recipe: Chicken Kung Pao is a popular Chinese dish made from chicken fillet, peanut, and dried chili cooked in a rich sauce with hints of Asian spices. This recipe is easy and simple but mouth-watering chicken dish.
Ingredients: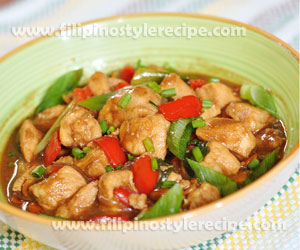 300 grams chicken fillet, cut into serving pieces
1/4 cup peanut, unsalted
1 thumb-sized ginger, cut into strips
5 cloves garlic, minced
1 onion, chopped
1 small-sized red bell pepper, diced
2 tablespoons spring onion, chopped
1/2 cup onion leeks, sliced diagonally
3 pieces dried chili(optional)
salt and pepper to taste
2 tablespoons sesame oil
Sauce Mixture:
1/2 cup chicken broth
3 tablespoons oyster sauce
2 tablespoons soy sauce
1/2 teaspoon cornstarch
sugar
Procedures:
Part 1
1. In a bowl, combine sauce mixture until well blended.
Part 2
1. In a pan, heat oil then stir fry chicken until well-browned.
2. Add peanut then stir fry, add ginger, garlic, and onion.
3. Add bell pepper then continue sauteing for a few seconds.
4. Add sauce mixture then cover and simmer until thickens.
5. Add dried chili and onion leeks then adjust seasoning according to taste.
6. Transfer to serving bowl then sprinkle with spring onion. Serve immediately. sugar
Comments
comments
Powered by Facebook Comments