Filipino Style Recipe: S'mores Graham Balls are simple and easy on the budget. The Graham balls are sweet snacks filled with marsh mallow that you and your family could enjoy. These is commonly serve in any occasions specially during holidays.
Estimated time of preparation: 20-25 minutes (plus refrigerating time)
Ingredients: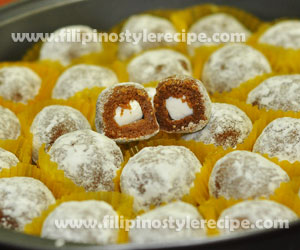 1 1/2 cup crushed graham
1 can (300ml) condensed milk
3 tablespoons powdered milk
2 teaspoons unsweetened cocoa powder
marshmallows for filling
1/2 cup confectioner's sugar
Procedures:
Part 1
1. In a bowl, combine crushed grahams and condensed milk then mix until well incorporated.
2. Add the powdered milk and cocoa. Use hand to make dough. (Add more grahams if mixture is still sticky and hard to make ball.)
Part 2
1. Scoop a spoonful of graham mixture and create a ball by rolling into your palms.
2. Push one marshmallow into the center of the ball then seal and roll it until the shape is round.
3. Roll the graham balls over confectioner's sugar.
4. Repeat steps until all the mixture is consumed.
5. Put into sealed container and refrigerate until ready to serve.
6. Place each ball in a small muffin liner then serve.
Comments
comments
Powered by Facebook Comments