Filipino Style Recipe: Who doesn't love almonds? And who could resist if those almonds were added in your pastries like your favorite cookies? Try out this recipe and you're surely won't regret once you've tasted.
Ingredients: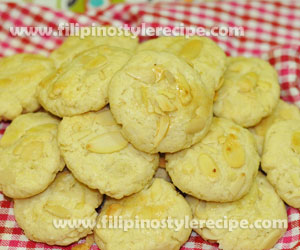 2 3/4 cups all-purpose flour
1 cup white sugar
1/2 teaspoon baking soda
1/2 teaspoon salt
1 cup butter, softened
1 egg
1 teaspoon vanilla extract
1/2 cup sliced almonds, set aside some to be put on top of the cookie
Procedures:
Part 1
1. Sift flour, sugar, baking soda and salt together into a bowl.
2. Add the butter and mix until mixture resembles dry oatmeal.
3. Add egg and vanilla then mix well.
4. Add the sliced almonds then toss until it is properly distributed in the dough.
Part 2
1. Scoop about 1 teaspoon of the cookie dough
2. Using your palms, roll into ball then press down to flatten into about 1/4 inch or depending on the thickness that you want.
3. Stick some of the raining almonds outside the cookies. Place cookies 2 inches apart on an ungreased cookie sheet.
4. Bake in a pre-heated oven over 325 degrees Fahrenheit for 18-20 minutes. Cool on rack for 15 minutes then serve.
Comments
comments
Powered by Facebook Comments