Filipino Style Recipe: Everybody is fond of red velvet cupcakes! And why not have other colors like brown velvet? This cupcake is as soft and light as the red velvet with just a different color. Plus, the blackberry cream cheese frosting is to die for!
Estimated time of preparation: 20 minutes
Estimated time of baking: 25 minutes (plus preheating time)
Good for 18-20 medium cupcakes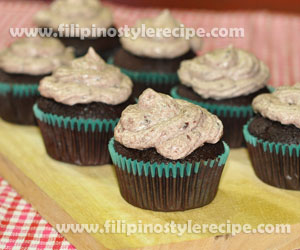 Ingredients:
For the Cupcakes
1 1/2 cup vegetable oil
2 large eggs
1 teaspoon vinegar
1 cup buttermilk
2 teaspoon vanilla extract
1 1/2 cups sugar
2 1/2 cups flour
1 teaspoon baking soda
1 teaspoon salt
1 1/2 tablespoon cocoa powder
2 tablespoon red food color
2 tablespoon green food color
For the Frosting
1/2 cup butter
1 1/3 cup powdered sugar
1 pack (9oz) cream cheese, sliced into 6 pieces
1/8 teaspoon salt
1 cup blackberry jam or pie filling
1/2 teaspoon vanilla
 Procedures:
Part 1
1. Using a stand mixer bowl, combine the vegetable oil, eggs, vinegar, buttermilk, vanilla and sugar and beat until well blended.
2. In another bowl, combine the flour, baking soda, salt, and cocoa powder. Add the dry ingredients to the mixer in 3 parts and mix after adding each part, scrape the sides to make sure there are no left unmixed ingredients. Add the green and red food coloring and continuously mix until the colors are well blended.
3. Fill each cupcake liners 2/3 full of the batter and bake in preheated oven at 350 Fahrenheit for 23-25 minutes or until toothpick inserted at the middle of the cupcake comes out clean.
Part 2
1. Using a stand mixer, cream together the butter, powdered sugar, and salt starting in slow speed for about 2 minutes then at medium to high speed until light and fluffy.
2. Add the cream cheese 1 slice at a time while continuously mixing. Add the blackberry jam and vanilla then mix until the berries are blended. Pipe or simply scoop out the frosting on top of each cupcake. Make sure that the cupcakes are cooled before frosting.
Comments
comments
Powered by Facebook Comments