Filipino Style Recipe: Sweet Beef Tapa is one of the all-time favorite filipino breakfast. Preparing home made beef tapa is healthier because you can avoid the artificial preservatives usually found in frozen goods. This version of beef tapa is a combination of sweet and salty flavor that you will surely enjoy.
Estimated Time of Preparation: 10 minutes (excluding marinating time)
Estimated time of cooking:8-10 minutes per batch
Ingredients: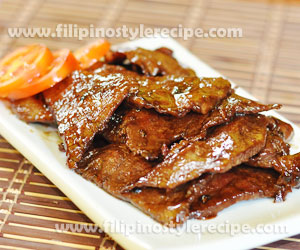 1/2 kilo beef sirloin, thinly sliced
Cooking oil for frying
Marinade:
6 tablespoon vinegar or calamansi juice
5 tablespoon soy sauce
2 tablespoon salt
1 medium head garlic, crushed and minced
6 tablespoon white sugar
1/2 teaspoon ground black pepper
1 teaspoon cayenne pepper(optional)
Procedures:
Part 1
1.In a mixing bowl, combine all the marinade ingredients and mix until the sugar and salt are dissolved.
2. Put in ziploc or plastic container. Soak each slice of the beef and marinade for at least 4 hours or over night.
Part 2
1. Heat pan with cooking oil over medium fire.
2. Arrange beef slices in 1 layer on the pan. Cook for 3-5 minutes then flip on the other side and cook for another 3 minutes. Remove from pan.
3. Serve with sliced tomatoes or vinegar with garlic.
Comments
comments
Powered by Facebook Comments