Filipino Style Recipe: This dessert will definitely impress your guests. With a bit of imagination on the presentation, it looks very expensive yet the ingredients are so simple, just mainly egg whites! This pavlova is marshmallowy on the inside and crispy on the outside.
Estimated time of preparation: 30 minutes
Estimated time of cooking: 1 hour plus cooling time
Yield: 8 servings
Ingredients: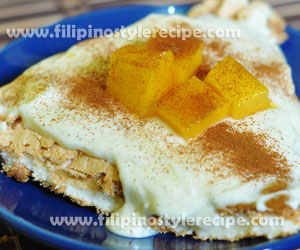 4 egg whites
1 teaspoon cream of tartar
1 cup white sugar
2 teaspoon vanilla extract
1 teaspoon lemon juice
For toppings:
1/2 cup heavy cream
1 tablespoon confectioner's sugar
1 ripe mango, cut into cubes
1 teaspoon cinnamon
Procedures:
Part 1
1.In a large bowl, beat egg whites until stiff but not dry. Add the cream of tartar and beat again.Gradually add the sugar about 1 tablespoon at a time while continuously beating after each addition. Beat until thick and glossy.
2. In a small bowl, combine the vanilla and lemon juice. Gently fold in the mixture into the beaten egg white.
Part 2
1. Line a baking sheet with parchment paper then draw a 9 inch circle in the middle of the parchment paper. Sprinkle lightly with cornstarch to avoid sticking.
2. Spoon the egg white mixture inside the circle starting from the middle spread toward the outside edge. Bake in preheated oven for 1 hour at 300 Farenheit. Once the time has been reached, slightly open the oven and let it cool inside the oven for at least an hour.
3. In a small bowl, whip the heavy cream until stiff peaks form. Add the confectioner's sugar and beat again to combine. Slice the pavlova into serving size, top with whipped cream, mangoes, and cinnamon. Serve and enjoy!
Note: make sure that no single drop of egg yolk is added on the egg whites.
Comments
comments
Powered by Facebook Comments