Filipino Style Recipe: Crispy Orange Beef recipe is another mouth-watering beef dish. Normally the beef comes fried in a crispy batter then tossed in thick sauce made of orange juice, orange zest, sugar, vinegar, soy sauce and oyster sauce.
Estimated time of preparation: 20 minutes
Estimated time of cooking: 30 minutes
Good for 2-3 persons
Ingredients: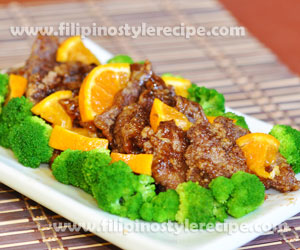 500 grams beef sirloin, sliced thinly
2 teaspoons orange zest
orange slices, cut into small pieces
1 thumb-sized ginger, grated
3 cloves garlic, minced
250 grams broccoli florets, steamed or blanched (optional)
oil for frying
Cornstarch Mixture:
1/4 cup cornstarch
1/4 teaspoon ground pepper
1/4 teaspoon salt
Orange Juice Mixture:
3 tablespoons orange juice
3 tablespoons cup sugar
3 tablespoons vinegar
1 tablespoon soy sauce
1 tablespoon oyster sauce
1/4 teaspoon salt
Procedures:
Part 1
1. In a bowl, combine cornstarch, ground pepper and salt then mix well.
2. Pat dry the beef strips then dredge on cornstarch mixture.
3. Shake off excess cornstarch then refrigerate for 30 minutes.
Part 2
1. In a small bowl, combine orange juice mixture then mix well. Set aside.
2. In a pan, heat oil then fry beef until golden brown. Drain and set aside.
Part 3
1. In a same pan, remove excess oil except 1 tablespoon.
2. Saute garlic, ginger and orange zest for a minute.
3. Pour orange juice mixture and orange pieces then simmer until almost thickens.
4. Add fried beef then toss to coat evenly.
5. Transfer to serving plate then serve with steamed broccoli.
Comments
comments
Powered by Facebook Comments