Filipino Style Recipe: Breaded Butterfly Shrimp is another simple yet special shrimp dish that is usually serve as appetizer or pulutan together with your favorite dip. The shrimp were butterflied then coated into flour mixture, eggs and breadcrumbs. Deep fried until golden brown then serve with dipping sauce.
Estimated time of preparation: 30 minutes
Estimated time of cooking: 10 minutes
Ingredients: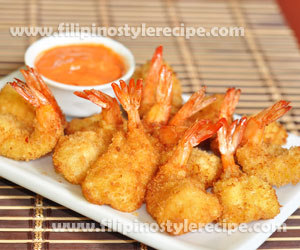 500 grams large-sized shrimp
2 pieces raw eggs, beaten
2 cups panko breadcrumbs
1 tablespoon fresh parsley, chopped (optional)
1 1/2 cups all purpose flour
1/2 teaspoon garlic powder
1/2 teaspoon ginger powder
1/2 teaspoon paprika powder (optional)
salt and pepper to taste
cooking oil for frying
Procedures:
Part 1
1. Remove head, peel, and devein the shrimp. Tail intact.
2. Using a knife, slice lengthwise then open the cut to butterfly the shrimp.
Part 2.
1. In a bowl, combine flour, paprika, garlic powder, ginger powder, salt and pepper.
2. In a separate bowl, pour beaten eggs then add a littler water.
3. In another bowl, combine panko breadcrumbs and chopped parsley.
Part 3
1. Holding the tail, dredge the shrimp into flour mixture then dip in egg mixture.
2. Dredge again the shrimp into flour mixture then dip in egg mixture.
3. Press into breadcrumbs to coat evenly. Repeat for the remaining shrimp.
Part 4.
1. In a skillet, heat oil then deep fry breaded shrimp for 2 minutes or until golden brown.
2. Drain on paper towel. Serve with dipping sauce.
Comments
comments
Powered by Facebook Comments