Filipino Style Recipe: Lemon Cupcake with Blackberry Frosting is another delicious pastry made of lemon flavored cupcake with blackberry frosting on top. Best to serve with coffee or snack for kids.
Ingredients: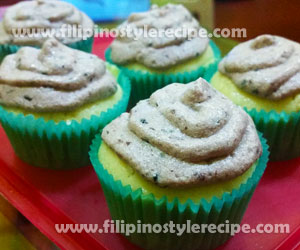 For the cupcakes:
2 egg whites
1 teaspoon cream of tartar
5 tablespoon butter, softened
2 tablespoon vegetable oil
1 cup sugar
2 teaspoon vanilla extract
2 egg yolks
1 3/4 all purpose flour
1/4 teaspoon baking soda
1/4 teaspoon salt
1 teaspoon baking powder
1 cup sour cream
1 lemon (lemon zest and lemon juice)
For the Frosting:
1/2 cup butter
1 1/3 cup powdered sugar
1 pack (9oz) cream cheese, sliced into 6 pieces
1/8 teaspoon salt
1 cup blackberry jam or pie filling
1/2 teaspoon vanilla
Procedures:
Part 1
1. In a mixing bowl, combine egg whites and cream of tartar and mix with hand mixer until stiff peaks form. Set aside.
2. Using a stand mixer, mix the butter, vegetable oil, and sugar until well combined, around 3 minutes. Add the egg yolks and vanilla until well blended.
3.Combine the flour, baking soda, baking powder and salt. Alternate adding the sour cream and dry ingredients in 3 parts in to the butter mixture until just blended.Do not overmix. Fold in the lemon zest, lemon juice, and egg whites to the batter until evenly combined.
4. Fill cupcake liners until 1/2 full and bake into preheated oven at 350 farenheit for 15 -18 minutes or until toothpick inserted at the middle of cupcake comes out clean. Remove from the oven and let it cool in rack.
Part 2
1. Using a stand mixer, cream together the butter, powdered sugar, and salt starting in slow speed for about 2 minutes then at medium to high speed until light and fluffy.
2. Add the cream cheese 1 slice at a time while continuously mixing. Add the blackberry jam and vanilla then mix until the berries are blended.
3. Pipe or simply scoop out the frosting on top of each cupcake. Make sure that the cupcakes are cooled before frosting. Serve.
Comments
comments
Powered by Facebook Comments