Love cheese? Then this yummy treat is for you. Your favorite cheesecake is even made more cheesy with grated queso de bola.
Ingredients: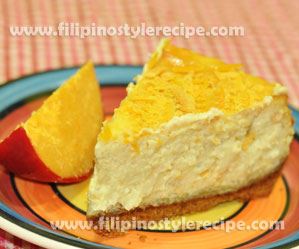 For the Crust:
2 cups crushed grahams
6 tablespoon butter, melted
4 tablespoon sugar
For the Filling:
3 packs cream cheese, softened
1 1/4 cups white sugar
3 eggs
1 cup sour cream
3 tablespoon flour
3 teaspoon vanilla extract
1/4 cup grated queso de bola
Procedures:
Part1
1. In a bowl, mix together the crushed grahams, butter and sugar until the mixture is moistened.
2. Press the mixture into round cake pan. Chill in the refrigerator while preparing the filling.
Part 2
1. In a mixing bowl, combine the cream cheese and sugar. Using a mixer, beat together until well combined.
2. Starting at this point, all mixing will be done by hand and spatula. Add one egg at a time and mix until just combined. Add the sour cream, flour and vanilla, and mix until combined.
3. Pour the cream cheese mixture into the prepared crust.
4. Bake in preheated oven at 350 Fahrenheit for 60 minutes. After baking, let it stay in the oven for at least 2 hours.
5. Chill in the refrigerator until ready to serve. Top with the remaining queso de bola.
Comments
comments
Powered by Facebook Comments