Filipino Style Recipe: Seafood Three-Cheese Pasta is a simple yet delicious seafood-pasta dish that is made of seafood cooked together with Three-Cheese pasta sauce and herbs. Toss together in pasta then sprinkle with Parmesan cheese.
Estimated time of preparation: 15 minutes
Estimated time of cooking: 15 minutes
Good for 4 persons
Ingredients: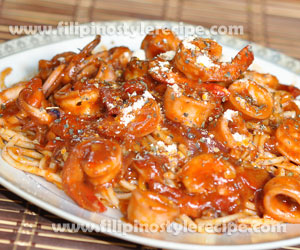 250 grams spinach spaghetti or any pasta
200 grams shrimps, peeled and deveined
300 grams squid, cut into rings
1 pack Three-Cheese Pasta Sauce
3 cloves garlic, minced
1 onion, chopped
1 thumb-sized ginger, grated
2 pieces tomatoes, cut into cubed
1/8 cup pasta water
1/4 teaspoon dried basil
Parmesan cheese
Procedures:
Part 1
1. In a large pot, prepare pasta based on cooking instructions. Drain and set aside.
2. Reserve 1/8 cup pasta water. Set aside.
Part 2
1. In a pan, saute garlic, onion, ginger and tomatoes.
2. Add shrimp and squid then cook for 3 minutes.
3. Pour pasta water and Three-cheese pasta sauce.
4. Season with dried basil, salt and pepper then simmer until almost thickens.
5. Toss in pasta. Sprinkle with Parmesan cheese. Serve!
Comments
comments
Powered by Facebook Comments