Filipino Style Recipe: Cheesy paprika fries is a popular snacks made of potatoes cut into sticks then deep fried until crisp. Toss with cheese, paprika, garlic and salt powder.
Ingredients: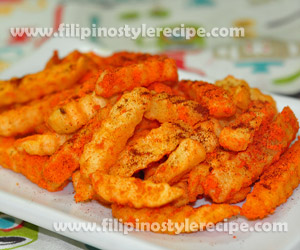 4 large potatoes, washed and dried
2 cups peanut oil
1/2 cup cheese powder
1 tablespoon Spanish paprika
1 teaspoon garlic powder
1/2 teaspoon kosher salt
Procedures:
Part 1
1. Cut potatoes into 1/2-inch-thick sticks.
2. In a small bowl, combine cheese powder, Spanish paprika, garlic powder and salt until blended. Set aside.
Part 2
1. In deep pan, heat oil then fry potatoes for crisp. Drain.
2. Combine fries and powder mixture, toss to coat then serve with dressing.
Comments
comments
Powered by Facebook Comments