Filipino Style Recipe: Sarciadong bangus is another simple and easy Filipino dish. This dish is a way to re-cooked left over fish. It is usually consist of fried bangus (or Leftover) then cooked in a combination of tomatoes and beaten eggs.
Estimated time of preparation and cooking: 20-30 minutes
Good for 3-5 persons
Ingredients: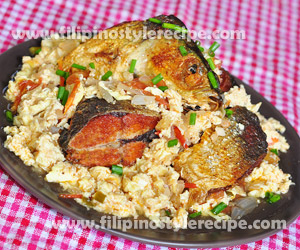 1 medium-sized bangus (milk fish), cleaned and cut into serving pieces
2 pieces eggs, beaten
4 medium-sized tomatoes, diced
1 medium-sized onions, diced
3 cloves garlic, minced
1/2 cup water
fish sauce and ground pepper to taste
cooking oil
2 tablespoons chopped spring onion(optional)
Procedures:
Part 1 (Skip if leftover fish is available)
1. Season bangus with salt. Set aside.
2. In a pan, heat cooking oil and fry fish until brown. Drain and set aside.
Part 2
1. In same pan, reduce the oil then saute onion, garlic and tomatoes until soft.
2. Add water, spring onion, fish sauce and ground pepper. Bring to boil.
3. Add beaten eggs, once the eggs curdles start stirring the mixture.
4. Add fried bangus and simmer for a minute.
5. Transfer to serving plate then sprinkle with remaining spring onion. Serve with rice. Enjoy!
Comments
comments
Powered by Facebook Comments