Filipino Style Recipe: Baked Salmon Belly is a mouth-watering seafood dish consisting of marinated salmon belly then baked until golden brown. Best to serve as "pulutan" together with cold beer.
Ingredients: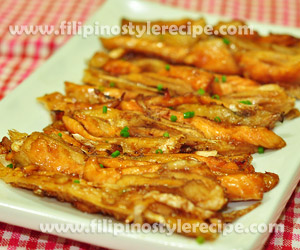 500 grams Salmon belly, cut into strips
2 tablespoons chopped spring onions
3 tablespoons vegetable oil
Marinade:
1 tablespoon garlic powder
2 tablespoons grated ginger
1/2 teaspoon sesame oil
3 tablespoons oyster sauce
4 tablespoons soy sauce
3 tablespoons lemon juice
1/2 teaspoon cinnamon powder
Procedures:
Part 1
1. In a bowl, marinate salmon belly for at least 30 minutes inside the fridge.
Part 2
1. Preheat oven at 300 degrees Fahrenheit.
2. In a baking pan, lined with aluminium foil and grease with vegetable oil.
3. Arrange marinated salmon belly then bake for 15-20 minutes or until golden brown.
4. Transfer to serving plate then sprinkle with spring onions.
Comments
comments
Powered by Facebook Comments