Filipino Style Recipe: Sweet Pork is usually served when we have big occasions in the province where they butcher a whole pig. They get the fatty parts such as the pork belly that is the best cooked for this dish. It can also be stored for several days even without refrigerator.
Ingredients: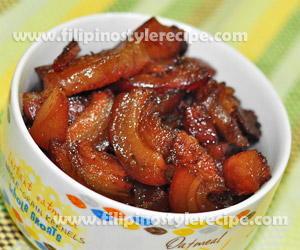 1/2 kilo pork belly, sliced thinly
3 cloves garlic
4 teaspoon cooking oil
1/2 cup brown sugar
1/2 cup soy sauce
2 cups water
Procedures:
1. In a pan, saute garlic until translucent. Add soy sauce, water and brown sugar and boil.
2. Add the pork belly.
3. Cook for 1 hour or until the meat is tender with the fat a bit chewy and the sauce caramelizes. Add more water if needed.
4. Serve with rice.
Comments
comments
Powered by Facebook Comments