Filipino Style Recipe: Smores Cookie Cups is made of crushed grahams topped with melted marshmallows instead of usual frosting.
Ingredients: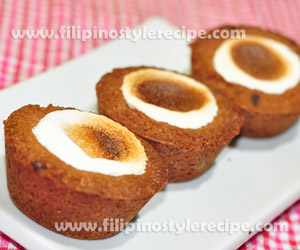 1/2 cup butter, softened
3/4 cup brown sugar,packed
1 egg
2 teaspoon vanilla extract
1 1/2 cup crushed grahams
3/4 cup all purpose flour
1/2 teaspoon baking soda
1/4 teaspoon salt
12 pieces large marshmallows
Procedures:
Part 1
1. In a mixing bowl, cream butter and sugar using an electric mixer until creamy, around 3 minutes.Beat in the egg and vanilla extract until well combined.
2. In another bowl, combine the crushed grahams, flour, baking soda and salt. Gradually add the dry mixture into the butter mixture and mix using spatula until just combined.
3. Scoop 1 tablespoon batter into each non stick muffin pan and mold into the sides and bottom of the pan. Note that the batter will expand when baked so do not make it too thick.
4.Bake into preheated oven at 350 degrees Fahrenheit for 10 minutes. Remove from oven and let it cool before transferring to wire rack to cool completely.
Comments
comments
Powered by Facebook Comments