Filipino Style Recipe: This zucchini bread recipe is very moist and flavorful. Guess my favorite part? The slightly burnt edges! So dont worry about burning it a bit on the outside, it still comes out moist on the inside.
Ingredients: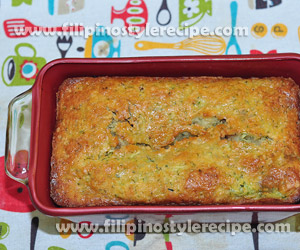 3 cups all purpose flour
1/2 teaspoon baking powder
1 teaspoon baking soda
1/2 teaspoon salt
1 cup vegetable oil
2 cups sugar
3 eggs
2 teaspoon vanilla extract
sour cream
2 pieces medium zucchini, shredded
Procedures:
1. In a mixing bowl, sift together the all purpose flour, baking powder, baking soda, and salt.
2. In another bowl, combine the oil and sugar and mix until well blended. Add the eggs one at a time, beating after each addition until just combined. Add the vanilla extract and beat again.
3. Blend the wet mixture into the dry mixture alternately with the sour cream until just combined.
4. Stir in zucchini until well combined.
5. Pour batter into lightly greased 9×5 inch loaf pan. Bake in preheated oven at 350 degrees Fahrenheit for 60 minutes or a toothpick inserted into the center comes our clean.
Comments
comments
Powered by Facebook Comments